Security News > 2023 > September > Nearly 12,000 Juniper Firewalls Found Vulnerable to Recently Disclosed RCE Vulnerability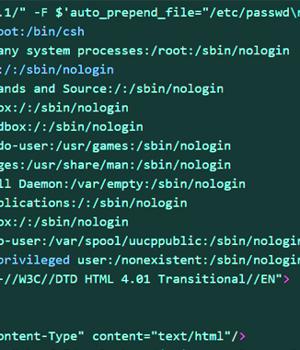 2023-09-19 09:30
New research has found that close to 12,000 internet-exposed Juniper firewall devices are vulnerable to a recently disclosed remote code execution flaw.

VulnCheck, which discovered a new exploit for CVE-2023-36845, said it could be exploited by an "Unauthenticated and remote attacker to execute arbitrary code on Juniper firewalls without creating a file on the system."

A subsequent proof-of-concept exploit devised by watchTowr combined CVE-2023-36846 and CVE-2023-36845 to upload a PHP file containing malicious shellcode and achieve code execution.

Arbitrary code execution is then achieved by leveraging PHP's auto prepend file and allow url include options in conjunction with the data:// protocol wrapper.

"Anyone who has an unpatched Juniper firewall should examine it for signs of compromise."

Juniper has since disclosed that it's not aware of a successful exploit against its customers, but warned that it has detected exploitation attempts in the wild, making it imperative that users apply the necessary fixes to mitigate potential threats.


News URL
https://thehackernews.com/2023/09/over-12000-juniper-firewalls-found.html
Related Vulnerability
DATE
CVE
VULNERABILITY TITLE
RISK
2023-08-17
CVE-2023-36846
Missing Authentication for Critical Function vulnerability in Juniper Junos
A Missing Authentication for Critical Function vulnerability in Juniper Networks Junos OS on SRX Series allows an unauthenticated, network-based attacker to cause limited impact to the file system integrity. With a specific request that doesn't require authentication an attacker is able to upload arbitrary files via J-Web, leading to a loss of integrity for a certain  part of the file system, which may allow chaining to other vulnerabilities. This issue affects Juniper Networks Junos OS on SRX Series: * All versions prior to 20.4R3-S8; * 21.2 versions prior to 21.2R3-S6; * 21.3 versions prior to 21.3R3-S5; * 21.4 versions prior to 21.4R3-S5; * 22.1 versions prior to 22.1R3-S3; * 22.2 versions prior to 22.2R3-S2; * 22.3 versions prior to 22.3R2-S2, 22.3R3; * 22.4 versions prior to 22.4R2-S1, 22.4R3.

5.3

2023-08-17
CVE-2023-36845
PHP External Variable Modification vulnerability in Juniper Junos
A PHP External Variable Modification vulnerability in J-Web of Juniper Networks Junos OS on EX Series and SRX Series allows an unauthenticated, network-based attacker to control certain, important environments variables. Utilizing a crafted request an attacker is able to modify a certain PHP environment variable leading to partial loss of integrity, which may allow chaining to other vulnerabilities. This issue affects Juniper Networks Junos OS on SRX Series: * All versions prior to 21.4R3-S5; * 22.1 versions prior to 22.1R3-S4; * 22.2 versions prior to 22.2R3-S2; * 22.3 versions prior to 22.3R2-S2, 22.3R3-S1; * 22.4 versions prior to 22.4R2-S1, 22.4R3; * 23.2 versions prior to 23.2R1-S1, 23.2R2.

5.3